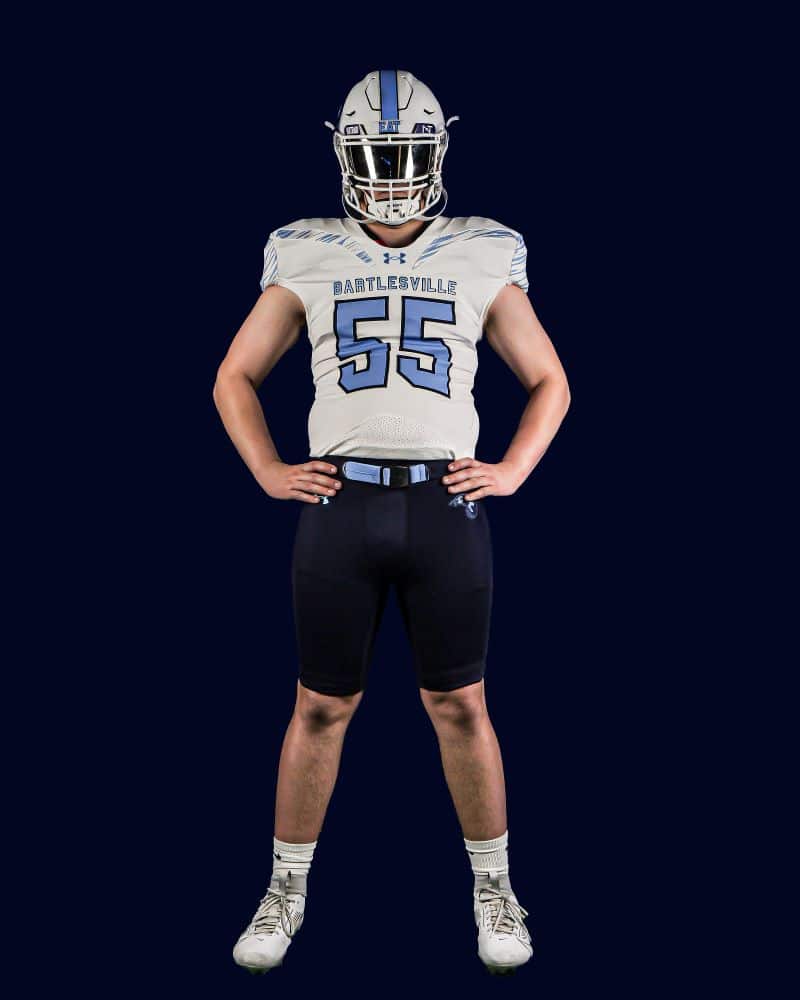 Bartlesville senior Cooper Wood has made a big impact both on and off the football field.
Wood is one of quarterback Nate Neal's pass protectors along the offensive line on the field, and he's the Bartlesville Fellowship of Christian Athletes captain off the field.
The Bruins went 5-7 last season under head coach Harry Wright and defeated Lawton in the opening round of the playoffs. Wood, also a member of the Bruins' basketball team, wants even more from himself and for his team in 2023.
"Personal goal that I have off the field is to try and become a better leader and person in general. While on the field, I want to try to give up as few sacks as possible to protect my quarterback Nate Neal," Wood said. "The team goal we have is to be the best Bartlesville team since 2015 and host a playoff game.
"I'm most looking forward to embracing the moments and the interactions with my teammates and coaches while trying to be the best team we can be."
Wood's head coach feels he has the tools to play at the next level.
"Has the frame to be a college offensive lineman," Wright said. "Has drastically improved his overall strength and added some weight (275) to his 6'5 frame."
"I have improved a lot mentally on recognizing what teams are doing offensively and defensively and how I can use that to help better us," Wood said. "Also, I have improved on my strength and size."
Wood, who claims the playoff win over Lawton last year – the first playoff win for the program since 2015 – was his proudest moment, got his start in FCA during the eighth grade.
"I have been attending FCA since my 8th grade year. During this time I have served in whatever ways are needed, from picking up the food before, speaking, or inviting people to come," he said. "The importance it brings to me and my teammates is it gives us something and somewhere to bond over outside of sports.
"FCA has made me some of my closest bonds with teammates because of all the early Friday mornings"
"One of the leaders of our FCA group," Wright said. "Very involved in every area in athletics being a multi-sport athlete with football and basketball as well as a leader in several academic groups."
The four-year letterman in football and basketball is a three-year academic all-conference selection in both sports and has been on the honor roll for three years. Wood has two big influences when it comes to playing football.
"The two biggest football influences of mine are my 8th grade football coach, Ty Huie, who gave me my love for football. The second is my former defensive coordinator, Dan Nickles, who gave me the opportunity to play varsity as a freshman and instilled a hard work ethic in me," Wright said.
Wright plans on attending college and majoring in accounting with the hopes of continuing
his football career.