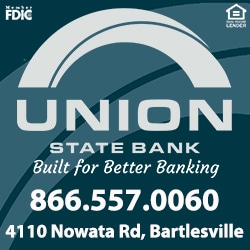 Families everywhere are keeping busy schedules and packing in as many activities as they can throughout the year. The Schaper family is no different. Tasha Schaper said her three daughters keep her busy.
"My softball player, Macie, is in eleventh grade. I have a daughter, Regan, in eighth grade and Pyper in fourth grade. They aren't currently involved in sports but between the two of them they have been involved in tumbling, dance, softball and choir," said Tasha.
Serving as the president of the softball booster club is something new on Tasha's plate, but she's excited to take over the position as the 2021 season gets underway.
"I just became the president in the last few months. I volunteer and work the concession stand at every home softball game that we have, or if needed I work the gate and sell tickets. I will volunteer wherever I am needed," said Tasha.
Tasha said she loves everything about volunteering.
"I have made so many friends throughout the years while volunteering. I have in the past been an active PTO officer for a few years, I test proctor, help in classrooms, and will gladly take stuff home to cut out or sort for any of the teachers if needed. I remember growing up and being so thankful for the parents who always made sure to help the teachers and schools out to make sure that we always had class parties, field days, and school dances," Tasha said. "I remember parents coming to classrooms to pick up things to go and make copies, or to take things home with them to sort or cut out, and I remember how appreciative each teacher would be. I always told myself if I had children, I was going to make sure that I did my part as a parent to make sure these same things happened for my children and their teachers. I really do think that it takes a village, and that we should help if we are able."
With any team there are plenty of jobs that need attention and people to work them. Tasha said she has a great group of volunteers who work tirelessly for the program.
"Jennifer White has always taken care of signups for gate and concession stand workers, so I just jump in wherever she has needed me. Patty Hill and Allison Schroeder are always right there working concessions with me. Desiree Clabaugh is always willing and ready to help with anything needed. The softball program has worked the football gate and the basketball concessions for a while now, and everyone helps with those. Coach Minton is always there helping at basketball and football games. I could honestly name so many people that volunteer their time to the softball program."